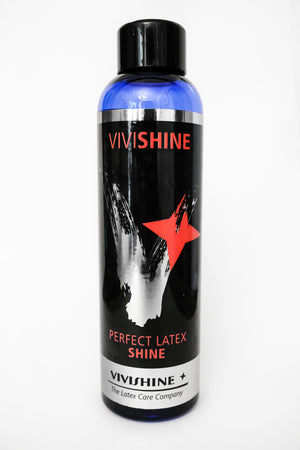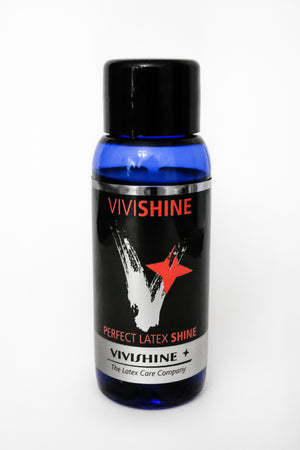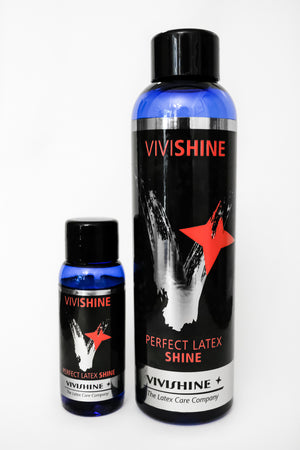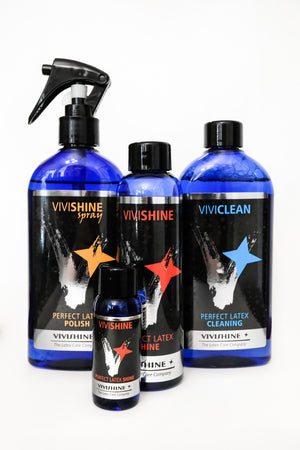 ViviShine
SKU #
VS-S
ViviShine, simply the best latex conditioner and shiner on the market. Easy to use, just add a capful to a sink of clean water and rinse your latex. Let it dry and you are good to go. Your latex will feel smooth and fantastic, and boy will it shine. ViviShine shines, protects, conditions, and even restores. Look fabulous, use ViviShine.
Fast, easy to use, and not messy

Perfects the feeling of latex on the skin

Produces a long lasting, high gloss shine
Provides intensive care for all latex and rubber products

Solvent free and odourless

Dermatologically tested and suitable for sensitive skin
Available in a 30ml or 150ml bottle
Application:
Wash your latex clothing thoroughly after wearing. ViviClean is perfect for this, gently but thoroughly cleaning the latex and removing any germs and bacteria.  This prevents the formation of bacteria, sweat or the like in the material. 
After washing, add ViviShine to a few litres of clean lukewarm water. Add your latex. Gently swirl your items about in the water, lifting them in and out of the water to ensure that all areas get a good coating of ViviShine.
Take it out, shake off any excess water, and hang it up for a few hours to dry and air out. With hard water (chalky water), it is best to dab the water drops with a towel. A perfect shine awaits!
After a treatment with ViviShine, the latex clothing can easily be hung in the closet or stored in a garment bag.
How Much Should I Use?
ViviShine is very economical to use. For a Catsuit, it is sufficient to add about one tablespoon of ViviShine to a bucket of clean lukewarm water. The amount of water is not important. A few litres is enough, just so long as the latex can be fully immersed in it.
It is soon noticeable how the water bubbles form and a shiny surface appears. The latex feels glossy and smooth without sticking together. If oily droplets can still be seen after shaking off the water drops then the dosage was too high. While this is not a problem, it will make the latex attract more lint.